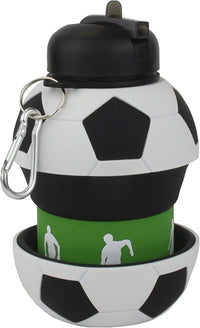 Collapsible Silicone Soccer Ball Water Bottle Maccabi Art, 1 Liter
$21.07
Keep groups of kids hydrated with Collapsible Silicone Soccer Ball water bottles from Maccabi Art.

Our silicone soccer ball water bottles make drink breaks fun for student athletes. When not in use, these eye-catching water bottles collapse into a soccer ball (4.5 by 5 inches). Expanded, they hold 1 liter (34 ounces) of liquid and stand 9.5 inches tall. The food-grade silicone contains no harmful chemicals.

These are good choices for the classroom, as well. Schools are increasingly allowing water bottles in classes, and these bottles are perfect for the job. The leak-proof spout prevents messes and spills, and a clip makes them easy to carry on a backpack.