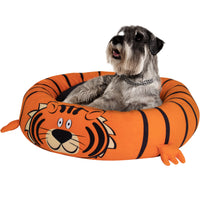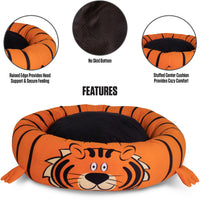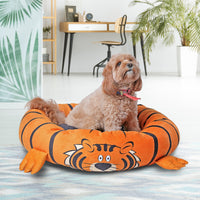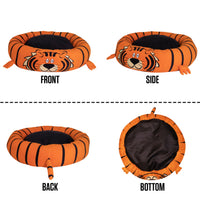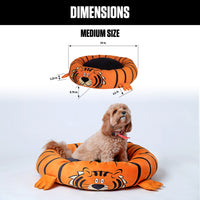 Maccabi Art Tiger- Round Bolster Cuddle Pet Bed- Medium 24"
$34.97
Upgrade your pet's sleeping experience with a Maccabi Art Cozy Character Round Pet Bed. The cute pet bed measures 24-inches round and features a bolster design that's perfect for cuddling. The machine washable donut pet bed is made to be easy to clean, ensuring the pet bed is always fresh and nap-ready. The pet bed for cats & dogs has a traditional open design and the bolster edges help maintain the shape and is the perfect place for your pet to rest its head on. The pet beds are available in assorted animal designs, including a panda, a pig, a lion and a tiger. Assorted character designs, 24-inches round, Bolstered edges, Machine washable, For cats and dogs. What's in the Box: 1 Cozy Character Round Pet Bed.
Assorted Character Designs - Choose from fun companion designs like a panda, a pig, a lion or a tiger; Color of the bed coordinates with the animal.
Donut Dog Bed - Round pet beds are 24-inches in diameter and are the ideal size for small to large dogs, puppies and cats; Bolster design maximizes comfort.
Machine Washable - Machine washable material makes it easy to maintain the pet bed; Pet bed maintains its shape and color even after washing.
Pet Bed for Cats & Dogs - Open design is perfect for cats or dogs; Pet bed comfortably fits small to large-size pets including puppies, kitchens, cats and dogs.
Anti-Slip Base - Anti-slip base keeps the pet bed secure on any hard surface including tile, laminate, hardwood, vinyl and more.